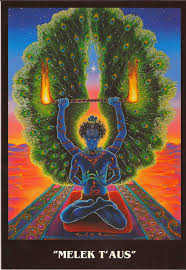 AND SO IT BEGINS…again!
Yesterday, the day of my usual Psychic readings at St. Babs Church Goshen NJ, There was a meeting held with some of the town locals to voice their concerns regarding the Halloween event which is being held on the church grounds later this month. For the most part the people attending were willing to listen to the reasoning behind the fundraiser, and expressed their concerns in an adult manner. There were a few however who raised their voices and and used language of which the sanctuary of the church had probably never heard before. This language was disturbing to the more reasonable attendees (and indeed to me who is not usually opposed to more colorful speech).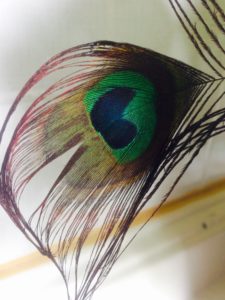 I sat quietly and listened for the most part, hoping that the torches and pitchfork wouldn't come out. I did have the opportunity to chat with a few of the more calm visitors. The situation was resolved to the satisfaction of most there. Hopefully the locals will now see this as a fundraiser that will benefit them and their community. Tonight I will do the second of my Historic Ghost cemetery walks and Spirit Channeling sessions, and I'm still a bit concerned that  those locals who didn't attend the meeting will be there protesting. Nevertheless I'm going to march on and do the event as planned. I'm calling Spirits of warding and protection to bless the Church, the cemetery grounds and those attending. Beware those that have the power to raise Leviathan! Ayibobo!!!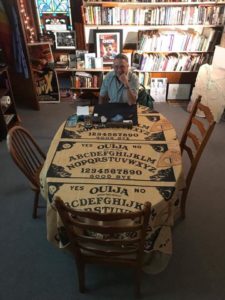 PSYCHIC/MEDIUM READINGS
R. SCOTT BITTING'S (RAVN'S) PRIVATE IN PERSON READINGS:
Private in-person readings are conducted on Wednesdays  at St. Bab's Foundation Church.
Walk-ins Welcome!
Click here to Make an appointment at ST. Babs!
321 North Delsea Drive
Goshen, NJ.
Private readings are also available in your home!
Gift Certificates are avaliable!!!
SPECIAL 15 MINUTE SESSION $ 20 (available at St.Babs only!)
Private readings are $75 per session.Group readings  are also available. Party of 6 $200 (average 20 minutes session pp), party of 8 $250. Please contact me for information on Parties of more than 8 people. Prices subject to change for traveling distance, length of session and Holidays. Discounts still available for repeat clients.
For information and to book a private reading with R. Scott Please call:
 609-849-8405 or Email : ravn@raven-star.org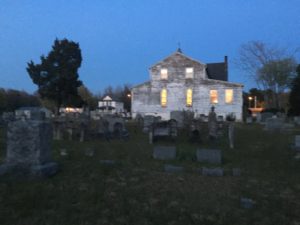 GHOSTLY 
CEMETERY TOURS
Ghost walks in the Historic ST. Babs cemetery will start September 7th follwed by a Spirit Channeling session in St Babs sanctuary. This will be a  a lead in to the #Tromeo 's Halloween Cemetery Scare! Donation are $5-10 on a sliding scale and will benefit the continued restoration of St. Babs Church and Cemetery grounds.
PHONE READINGS!
Our Psychics are available on a daily basis for phone readings.
All for now,
Machts gut un sei gesund!
R. Scott Bitting (Ravn)