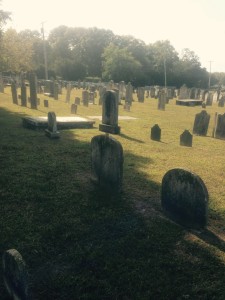 Ah… October 1st at last! The veil between the worlds get thinner and thinner…the dead speak and the ancestors reach out!
Last night I did the first of many group readings of the Fall season…what a wonderful family, much high energy there, and the Spirits were abounding!!! Many thanks to the group that hosted me…I hope to be able to help them again in the future!
Tomorrow night is  the first of the ghost walks at Historic Cold Spring Village…as long as the weather holds out…there could be drenching rain, the precursor to Hurricane Joachin, which as I write is making a beeline for the eastern seaboard. My hope is that it heads out to see, which is just as likely, at any rate, I've been through many hurricanes here in Cape May and have always fared well…we shall see.
I'm doing a bit more research on Goody Garlick, the somewhat famed witch of Rio Grande NJ…Elizabeth Hardie Garlick Parsons to be exact…I want to find the exact location of her gravesite…I'm almost positive that the site has been lost, most likely under the Garden State Parkway…I'll keep you posted…this may require a trip to the county clerk to research land titles in the 17 and 18th centuries…
I do have some availability for group readings in October, so if you're interested please schedule as soon as possible.
R. Scott