It's been a while since I've updated this blog. I needed to decompress after the extremely busy Halloween season, giving me the time to gather my thoughts. We did our annual Halloween display that was received well, but with less trick or treaters than in past years. It was a lot of fun, but is a great deal of work for just the one night.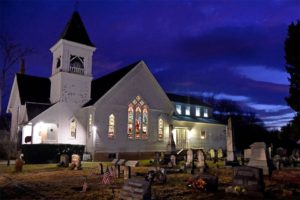 The controversy over the Halloween event at St. Babs has reared it's ugly head once again. The Cape May County Herald ran an article last week that reopened the issues that were largely solved in late September. The article is rife with misquotes and in my opinion was not researched very well.   Once again, via the comments on the article on facebook in the eyes of some in the local area, I am again the reason for the "darkness" that they falsely perceive at the Church. I'm not going to defend myself anymore…it's frankly exhausting.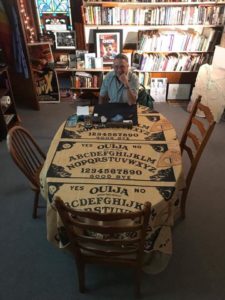 PSYCHIC/MEDIUM READINGS
BOB  BITTING'S (RAVN'S) PRIVATE IN PERSON READINGS:
Private in-person readings are conducted on Wednesdays  at
321 N Delsea dr.
Goshen, NJ
Click here to Make an appointment at ST. Babs!
Gift Certificates are avaliable!!!
Private readings are $75 per session.Group readings  are also available. Party of 6 $200 (average 20 minutes session pp), party of 8 $250. Please contact me for information on Parties of more than 8 people. Prices subject to change for traveling distance, length of session and Holidays. Discounts still available for repeat clients.
For information and to book a private reading with R. Scott Please call:
 609-849-8405 or Email : ravn@raven-star.org
As the Hallowe'en season comes to a close, I will expand my phone reading hours. You can reach me via phone by clicking the call buttin and setting up an account:
PHONE READINGS!
I'm also available  for phone readings:

All for now,
Machts gut un sei gesund!
R. Scott Bitting (Ravn)