SPIRIT MESSAGES!
The sight of a day lily blooming in November is a wondrous thing! It tells that even though the bleak winter is coming there is hope of new life. The sunny yellow of this day lily is representative of the light that can penetrate the winters darkness and also the remembrance of those now passed.  I take it as a prediction that the tide is turning and that even world events will turn out for the best. Fraa Holle is now moving out in the world, gathering those souls that have left their bodies behind this past year, and she will bring snowflakes soon. But even in the frosty winter chill, the sunshine still breaks through. Have a thought to those who left the world this year, but don't be sad as they are on a new a bright journey through the Mill of Holle to be reborn, much like the day lilies!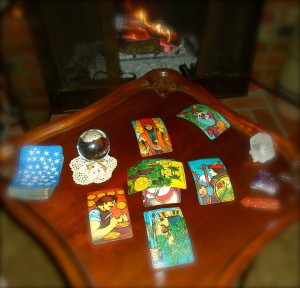 PHONE READINGS
Our Psychics are available on a daily basis for phone readings.
I will be available for Phone readings this evening after 7:30 PM Eastern.
I also  have availability for in-person and private group readings in the Cape May area for the month of November! Phone 609-849-8405 or email  ravn@raven-star.org for more information!
All for now,
Machts gut un sei gesund!
R. Scott Bitting (Ravn)