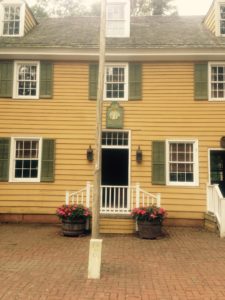 Gloomy…Blah Blah Blah!
The messages from Spirit today are still talking of some pending events on the global scale. Firstly there are earthquakes still predicted. One seems to be focused on the west coast of the US. California, Washington or Oregon… After that there are predictions of major flooding again on the west coast. I'm getting messages of political upheaval in Europe. Something now in Sweden as well as in Germany and France. Now the Balkans are coming through as well as a problem area. I'm also getting impressions form Spirit of an event of some type in London.
We shall see what will ensue.
In mundane matters. I have almost completed a few of the Hexes that I'm painting. Once completed they will be on the website.
I will be featured at an event at Historic Cold Spring Village on Saturday May 14th from 2-4 PM. "Spirited Tea" This will take place in the Dennisville Inn. High tea will be served and I will channel any Spirits that wish to attend. For more information please got to the Historic Cold Spring Village website.
All for now,
Machts Gut!
Ravn