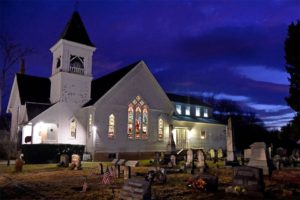 Yesterday I spent some time up the road at St Babs church in Goshen, NJ…I had a nice visit with Will Keenan, who started the St Babs foundation dedicated to the memory of his recently passed mother. The Church building is undergoing restoration, although the building is in fairly good condition, a fresh paint job would be the major need at this time .  The stained glass throughout the church is in exquisite condition.  I also toured the adjoining cemetery, which is in need of some repair. Many of the more ancient headstones have toppled and the ones made of sandstone are somewhat illegible…all of this can and will be remedied! In the short time that I was there, I had connections to 2 Spirits. One of a young girl, aged seven to nine who was hiding in the Oldest part of the church. She seemed shy and a bit scared, perhaps because of new renovations that are beginning. At the time I wasn't clearly receiving the child's name, but I believe it to be Sarah. She seemed happy enough, or maybe the word is content because she didn't seem to have any desire to move on. She said that she liked the sound of the Church bell and enjoyed the music. (Will does some events that are musical in nature).
I also perceived the Spirit of a soldier, just outside of the Church. He was wearing a flat topped military cap, somewhat like what the french foreign legion would wear, Could have been a civil war cap, but of a more dress variety. I didn't receive any messages from this soldier.
I very much enjoyed meeting Mr. Keenan. A wonderful man and someone with a generous and kind Spirit. In the future i will hopefully be doing some events at St Babs. I'll keep you posted!
Here is some information about ST Babs:
I wanted to link to a new local foundation that I support. This was started by Will Keenan as a tribute to his mother.
"I founded St. Babs (The Barbara A. Sees-Keenan Foundation) with my Sisters & loved ones in the summer of 2016 after my saint-like Mother Barbara left her body & I acquired a hundred-year-old landmark church in Cape May, New Jersey surrounded by famous beaches, natural wildlife preserves & Garden State farms. The St. Babs mission helps people in need, especially women & children and those seeking recovery, self-development, arts education and/or a house of spiritual refuge. Restoration has begun & the grand re-opening of this historical property is Mother's Day Sunday 2017 (a week before St.Babs' birthday:) Your investment will create quality social programs for local communities & all true hearts of online seekers everywhere." – Will Keenan (Founder, St.Babs)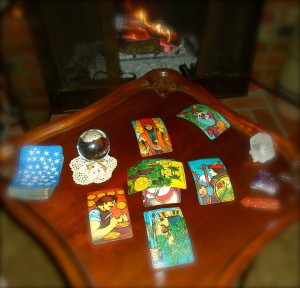 PHONE READINGS
I will be available for phone readings after 7:30 PM Eastern. My daily availability is always posted on my call page.
I also  have some  availability for in-person and private group readings in the Cape May area for the month of April. Bear in mind I don't have a venue for which to do in person readings, I will come out to your home in the Cape May County area.
I am now taking booking for large group readings for the summer, if your venue is looking for a slightly different sort of entertainment,
Phone 609-849-8405 or email  ravn@raven-star.org for more information!
All for now,
Machts gut un sei gesund!
R. Scott Bitting (Ravn)